Sign Replacement on NJ 21
New Jersey State Route 21 is a very complicated highway, even though it's only 14 miles long. At first, the "New Jersey Freeway" went from roughly Newark to Belleville. In the 1970's, almost all of the rest was built up to Monroe Street, Passaic, NJ. The remaining mile-and-a-half remained unbuilt because of funding and community opposition. Eventually, in the late 1990's, the last section was built from Monroe Street up the Passaic River to US 46, only destroying a nearby Mexican restaurant. However, the freeway is still somewhat incomplete. Due to a popular local hot dog joint and the Passaic River, the NJ 21/US 46 interchange is incomplete and not efficient. The freeway is not complete through downtown Newark, instead ending at Third Street and meandering through the city. Several interchanges, notably the NJ 21/NJ 3 interchange which carries high numbers of traffic, are also hindered by a restaurant and the river and are low-speed in design. However, these photos concentrate on the River Interchange--NJ 21, NJ 20, US 46, IH 80, the Garden State Parkway, and several local streets. Here is a basic layout:

Section One: NJ 21/US 46 merge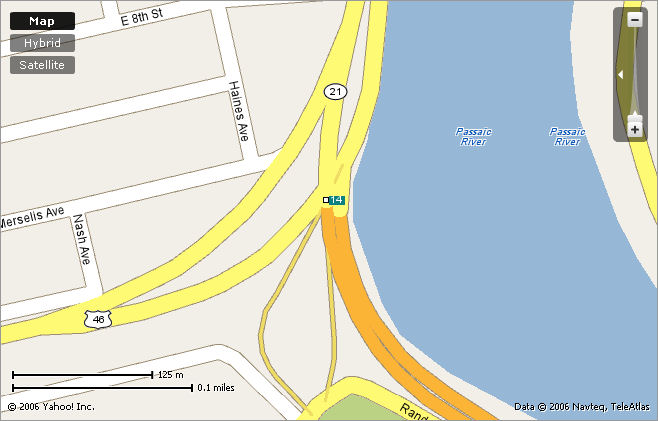 Here, NJ 21 merges/splits from US 46. NJ 21's first exit (14) goes to a local street, Lexington Ave. Randolph Ave, the street parallel to the freeway, was cut in half when the freeway was made, making it one-way. As you can see, there is no NB-WB or EB-SB movement, where most of the traffic is going.

Section Two: US 46 and the Garden State Parkway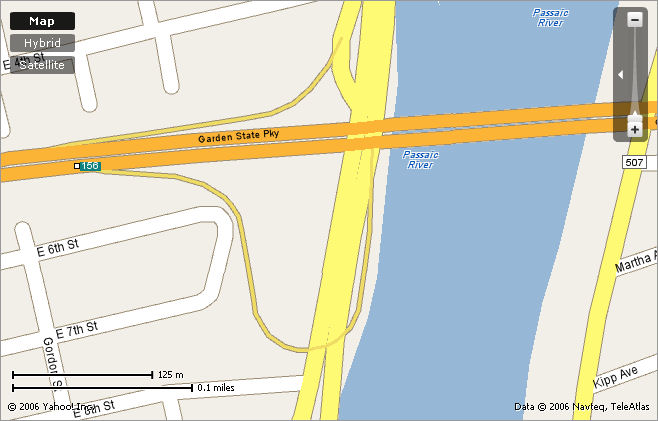 Here, everything looks fine and dandy, except for the fact that the NB-EB movement from Parkway to US 46 is a slow, heavily-curving ramp posted at 15 MPH but no one does more than 10 MPH.

Section Three: US 46 and NJ 20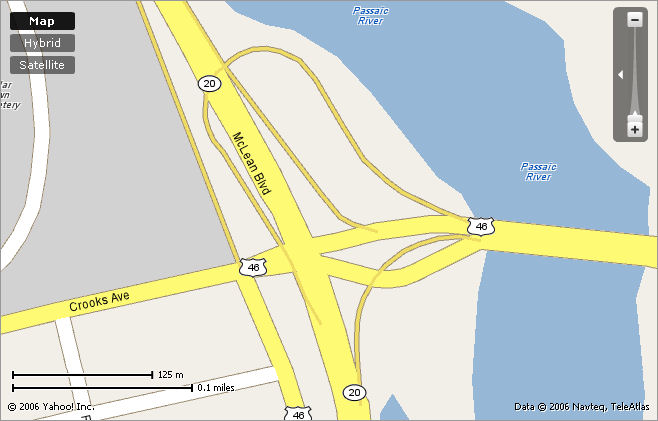 Here is the US 46/NJ 20 interchange. Contrary to the map, US 46 take the rightmost ramp and NJ 20 ends where the ramp merges. However, it isn't the greatest idea, as drivers in the fast lane are bound for Crooks Ave, a street in Paterson. Of course, there isn't much room for improvement.

Section Four: NJ 20, IH 80 and Market Street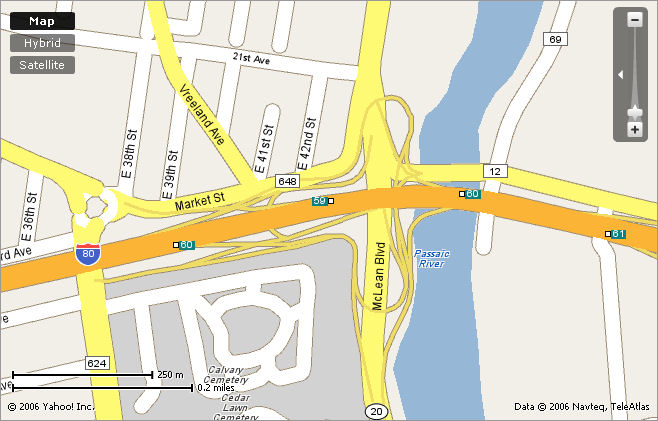 Here is the most complicated interchange in New Jersey, save for the Spaghetti Bowl in Woodbridge. Traffic from NJ 20 NB bound for IH 80 EB takes a simple short ramp, while to get to IH 80 WB you have the make a U-Turn onto a surface street and take a dipping ramp onto IH 80. Traffic going WB-SB has it even worse--they have to exit onto Market Street, make a left onto Lakeview Ave (yep, TWO surface streets), and make another left onto a long ramp that skirts a cemetary. It's quite possible to enter this interchange and never come up. It's hard to argue that the cemetary isn't a complicating factor, but there's also the river (of course), the Bergen Market Street, and the housing in the NW corner.

Now, here's a few photos of the re-signage.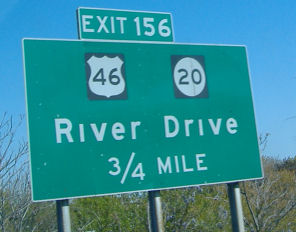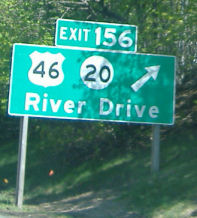 Signage from the Parkway going NB. This is new, and a similar assembly is a few miles north on the SB side.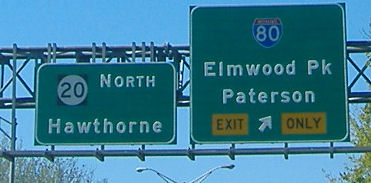 The ramp for IH 80 from NJ 20 NB.



The entrance to the interchange. If you're wondering why there's two signs for IH 80 WB, the left sign is for traffic from Market Streetm and the right is for NJ 20 traffic. FYI: This is not NJ 20.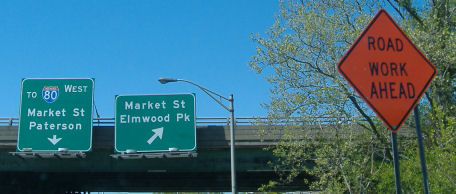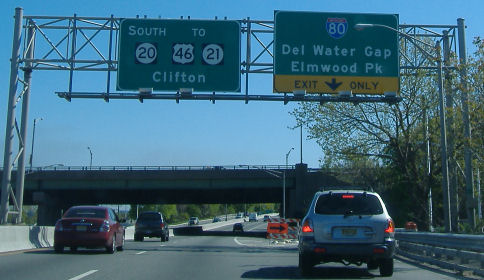 Now heading SB on NJ 20.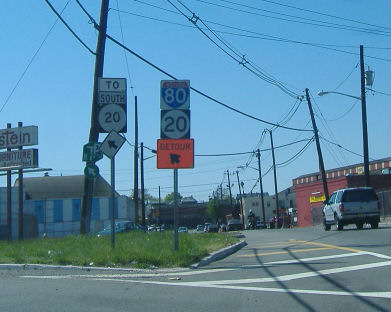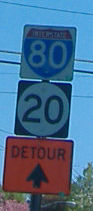 At the Market Street/Lakeview Ave circle in Paterson. These signs have been up for quite a while. Note the non-cutout IH 80 shield ("Woonsocket"-style).